Hebei TongXiang conveyor Machinery Co., Ltd.  is oprjochte yn 1980, en spesjalisearre yn cunewalde apparatuer en accessoires. Tsientallen jierren fan ûnderfining hawwe jûn ús in strang proseduere foar de kontrôle fan kwaliteit. Mear as 80 prosint arbeiders binne oan it wurk yn ús fabryk foar mear as 5 jier. Sûnt 2004, Mr.Cui útwreidzje de yntsjinne fan bulk materiaal omgean en meitsje it bedriuw groeie wer. Benammen manufacture conveyor Roller & idler, conveyor Frame & Station, pulley, Impact Bar / Bed en oare ûnderdielen, lykas Rubber Ring, Tube, Shaft, Lager sit en Seal.
Al dizze cunewalde Rollers, pulleys wurde soad brûkt yn in protte yndustry, lykas Coal mynbou, Gold, Quarry, rotsen of Stone Mills, Power plant, Cement plant, Steel Mills, Coal waskjen planten, Salt wurket, Fertilizer plant, Fasiliteiten of seehavens of fleanfjild, Overland Troughed conveyor en sa op.

TXROLLER, mei Lege Underhâld, Minimum Downtime en Lange Lifetime foardielen. Hat in protte soarten fan Rollers: Heineken idler, Return roller, Impact roller, HDPE roller, Garland roller, Gids roller, Cone roller, Rubber disc werom roller, Rubber / Steel spiraal werom roller.
Standert:CEMA, JIS, DIN, SABS, MT noarmen binne beskikber, lykas ek OEM service.
* Mining cunewalde roller
* crushing cunewalde roller
* Screening cunewalde 
* Quarry cunewalde roller
* aggregate cunewalde roller
* Sand rock cunewalde roller
* Rock, mineraal cunewalde
* conveyor dielen roller
* Bulk materiaal ôfhanneljen systeem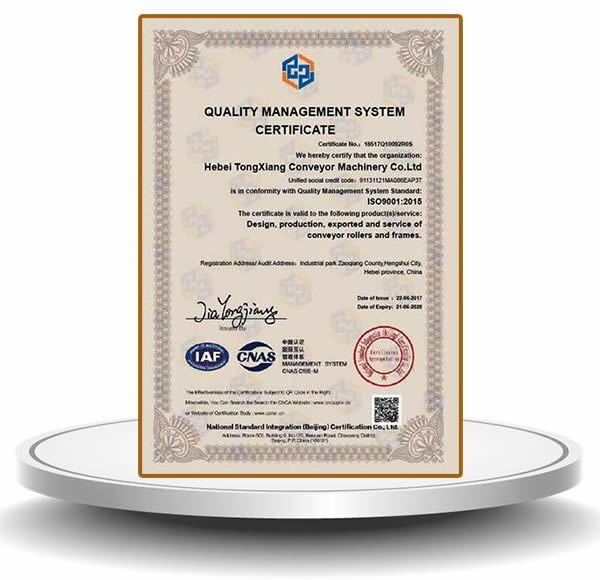 Wy hawwe ferkocht cunewalde Rollers to Feriene Steaten, Kanada, UK, Denemarken, Grikelân, Súd-Amearika, Austraalje, Azië, Súd-Afrika, Midden-Easten, ensafuorthinne, krige goede feedback en boude in lange termyn gearwurking relaasje mei harren. Sa kontakt TX ROLLER hjoed en sjen hoe't we kinne ferheegje jo cunewalde foarstelling.