Impact Roller
Product Detail
Product Tags
TX ROLLER represent the highest quality impact roller to assist our customers in helping make their plant/mine/facility to become more efficient, safe and productive.
The buffer roller is used to reduce the impact of blanking on the conveyor belt at the receiving area of the belt conveyor.It is a kind of belt conveyor idler roller mainly developed for corrosive environments such as chemical plants.
Advantage:
Value price;
Triple labyrinth seal;
Custom powder coated.
Sealed for life ball bearing;
Interchangeable roller assemblies;
Maintenance free sealed ball bearing;
Lifetime more than 20,000-25,000 hours;
JIS, CEMA, SABS, AS standard impact roller available;
Products offering of 450mm-2800mm belt width;
Extremely low rolling resistance & lowest operator cost.
Specification: Impact Roller

Belt 
Width
Type

 

Dimension

 

Bearing

Φ RD

Φ D

Φ d

L1

L2

A

K

B

W

400

IR-400

Φ 90

Φ 60.3

Φ 20

145

175

153

8

11

14

6204 2RS

450

IR-450

165

195

173

500

IR-500

180

210

188

600

IR-600-1

210

240

218

650

IR-650

225

255

233

600

IR-600-2

Φ 115

Φ 76.3

210

240

218

750

IR-750

265

295

273

800

IR-800

275

305

283

900

IR-900

315

345

323

1000

IR-1000

Φ 140

Φ 89.1

Φ 25

350

390

360

11

15

18

6205 2RS

1050

IR-1050

370

410

380

1200

IR-1200

420

460

430

1400

IR-1400

Φ 166

Φ 114.3

Φ 30

500

540

510

22

6206 2RS

1600

IR-1600

580

620

590

1800

IR-1800

Φ 35

650

690

660

25

6207 2RS

2000

IR-2000

730

770

740

2200

IR-2200

Φ 40

800

840

810

31

6308 2RS

2400

IR-2400

880

920

890

Impact Roller Processing Step: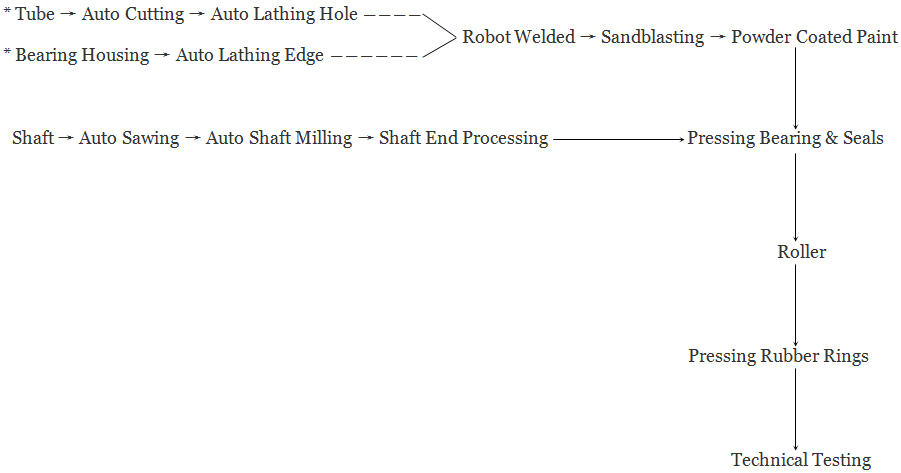 ---
Previous:
Steel Roller
Next:
HDPE Roller
---
Write your message here and send it to us